VOICES IN THE WIND AUDIO THEATRE
 Presents
 A SPECIAL HOLIDAY COLLECTION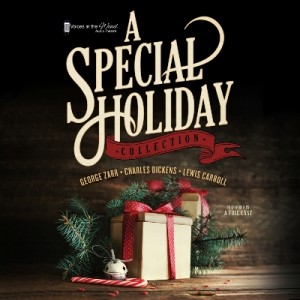 The perfect stocking stuffer for the audio story lovers on your list.
 George Zarr * Charles Dickens * Lewis Carroll 
This Special Holiday CD Collection features three entertaining and delightful stories for the entire family to enjoy. The Spirit Of Christmas Day including the sequel The Week After It's Christmas Day (The First Noelle Productions), A Christmas Carol and Alice In Wonderland.
Full Cast Dramatization
3.0 Hours – 3 CDs / Digital Download / Digital Rental / MP3 CD
Purchase Online: Walmart, Target, Amazon, Audible, Barnes and Noble, Chapters/Indigo, Blackstone Library, Downpour, Overdrive
VOICES IN THE WIND AUDIO THEATRE
http://www.voicesinthewind.ca/
REVIEW QUOTES:
A unique adaptation of Lewis Carroll's timeless classic."—THELONDONER.CA
"Zarr and Dupuis' production for the Canada-based Voices in the Wind Audio Theatre was notable for its lack of sentimentality: despite the happy ending, they emphasized the significance of Christmas as the time of year when individuals should take a long hard look at themselves and consider whether they need to reform. Would that everyone could follow Scrooge's example." — RADIO DRAMA REVIEWS ONLINE
"Perfect from the first sentence to the very last."— WKAR on A Christmas Carol
Alice In Wonderland a Wyatt's World Top Pick of Fabulous Listens – LIBRARY JOURNAL
"A Christmas Carol has been adopted into radio drama by many people over the years, but few better than Voices In The Wind Audio Theatre from Canada." – Fred Greenhalgh, Host of RADIO DRAMA REVIVAL
'Alice In Wonderland is very well done! Bravo!" – Catherine Rinella, Host and Producer, MIDNIGHT AUDIO THEATRE – WCBE 90.5 FM
"I wanted to take this opportunity to thank all of you for the work that went into "The Spirit of Christmas Day"….I'm sure many other families with similar stories all over the (broadcast) area that LIFE covers were able to share this important message with their loved ones because of your efforts. – Cathy Faubert, LIFE 100.3 FM
"[..Georgia Lee] Schultz's Alice was the fulcrum of the entire revival as she not only narrated the story but communicated her thoughts to listeners in asides. It was a tribute to her acting skill that she came across as a level-headed personality, someone who remained distinctly unfazed by what was happening around her. Hence her ability to treat the entire journey as a dream at the end." — RADIO DRAMA REVIEWS ONLINE