HOOFBEATS IN MY HEART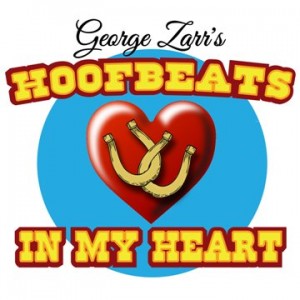 A New Full Cast Comedy
 From the Creative Mind of Writer, Director, Composer George Zarr, Chicago/New York.
Listen to a Preview of Episodes One and Two on the Moonlight Audio Theatre Podcast.
https://www.moonlightaudiotheatre.ca/external/?url=http://moonlightaudio.libsyn.com/podcast
Hoofbeats in My Heart presents a colorful and comic musical tale of an unlikely love triangle that plays out against the cactus and sagebrush of the old West.  The dedicated and stout-hearted Marshall Shiloh Brown journeys forth on a single-minded mission to capture Ruby Buckaroo, the Bandit Queen of the Cowboys. When the pursuer and pursued eventually cross paths, the Marshall unwillingly succumbs to a severe case of Hoofbeats in His Heart.
Complicating this awkward love match between lawfulness and law-breaking is the not-too-tightly-wound Sheriff Huck Buckskin, citizen of the ramshackle town of West Buzzard's Bottom and yet another representative of justice who is also madly in love with the elusive and delinquent Ruby Buckaroo. Through a series of captures and releases, near misses and near kisses, the lasso-crossed lovers gallop across the Wild West mountains and plains of this tuneful audio western, encountering an assortment of offbeat characters who support both the law and the outlaw – but ultimately believe in the triumph of love.
Hoofbeats In My Heart Website:  http://www.hoofbeatsinmyheart.net/podcast/